Tourists flooding into Greece
It seems like Greece is having a very good summer, with tourists flooding into the country and bookings rising more than expected. According to a ForwardKeys report for the World Travel Market, the islands with the biggest tourism appeal, compared to the summer of 2019, i.e. before the coronavirus, are Mykonos and Rhodes, with Chania, Heraklion and Santorini following.
Greece is also having a record of interest from American tourists, with over 500,000 tourist arrivals expected by the end of the summer from New York, Atlanta, Boston, Chicago, Philadelphia and Washington.
According to the survey, American tourists are staying more days in Greece, than in the past, even though the prices in most accommodation in Greece are increased by 60% compared to 2019.
All this impressive tourism performance of Greece seems to happen because of how the country communicated that it is a safe destination to travel. In particular, during the first wave of the pandemic in 2020, the world media had praised Greece for its response, while during the lockdown for COVID-19, Greece prepared campaigns abroad, leveraging and strengthening its digital face.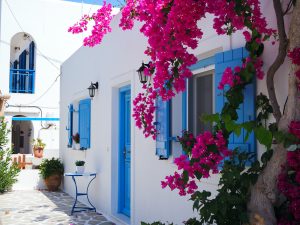 At the same time, independent analysts of Capital Economics note that the Greek economy is predicted to have a growth of 5.5% in 2022, driven by tourism, despite the consequences of the Covid-19 pandemic and the consequences of the Russian war- Ukrainian. According to these data, the Greek economy is recovering faster than other southern eurozone countries as well as other European economies.
The true story of an Austrian who visited Greece for vacation and ended up staying forever, which EOT used for this year's campaign seems to have played an important role in the development of tourism in Greece. Somehow, focusing on the country's beauties, the campaign showed many viewers that Greece is not by chance the favorite destination for millions of visitors. It is a place of unpretentious charm, simplicity, friendly people, warm sun, endless coastline, picturesque villages and incredible gastronomy!
Now that the holiday month of most people is officially here, have you arranged your vacation in Greece? Where are you heading?