A Greek singer shines on Billboard in Times Square!
A very young Greek pop singer shines on a Billboard in Times Square, as an ambassador of Greece and Cyprus in Spotify's global campaign, proving that Greek music is to be admired worldwide!
Who is Anastasia
The 19 – year – old Anastasia seems to have become the hottest face of the Greek discography in the last year, with her 2 songs hitting the top of the most played songs of the summer. It seems like Anastasia is born a star, since in her very first recording steps, she manages, as a Greek ambassador of the #SpotifyEQUAL campaign for the second quarter of 2022, to support, together with other female artists from all over the world,  the female "footprint" and the female influence in the world Music Stage.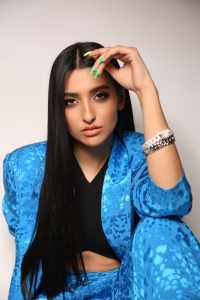 Her debut single "Sins" has so far exceeded 9 million streams on Spotify, having gone quadruple platinum, while her latest song "Ligo Ligo" has gone platinum within 2 months, surpassing 4 million streams. In fact, "Sins" are the most popular song in streams in Greece by a female artist for 2022. You can hear the song everywhere, from bars and clubs to radios and TV shows!
Instagram post full of emotions
On the occasion of Spotify's EQUAL international campaign, Anastasia has been appearing a few days ago on a Billboard in the famous Times Square in New York, and she didn't hesitate to express her emotions on social media:
"I feel proud to be an ambassador of Spotify EQUAL in the last months for Greece! But seeing my photo on a billboard in Times Square on this occasion seems like a dream! What else will come next?! I feel like I'm in a movie! I cannot describe the joy and honor I feel that in my first musical steps, my effort and goals are rewarded to such a great extent! To every woman or girl who is involved in music and sees this post I have only one thing to say…don't EVER stop dreaming! Let's go together to animate our voices in the music industry worldwide!"
Anastasia is also on the cover of the Greek playlist "EQUAL Greece" in which we find both her new smash hit single "Ligo Ligo" and "Sins", with the first one also included in the international list "EQUAL Global" that counts almost 1 million followers.
In addition, Anastasia is now the youngest Greek artist to become an ambassador for this Spotify campaign.
Anastasia, billboard, Equal, Equal global, Equal Greece, Greek artist, Greek singer, hit, Ligo Ligo, most played song, music, New York, Sins, songs, Spotify, times square